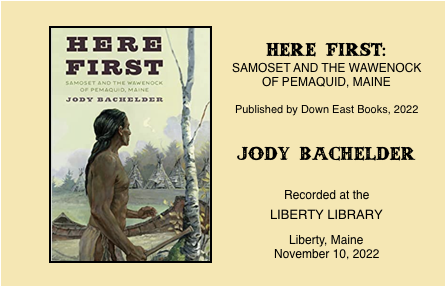 Jody Bachelder, author of Here First: Samoset and the Wawenock at Pemaquid, Maine talked about her research for the book at the Liberty Library on November 10, 2022. A recording of the program can be watched at https://youtu.be/5JkQvsK81Gw
Resources mentioned in the video:
Jody's website https://jodybachelder.com
Mark Charles Ted Talk
Maine's First Ship https://mfship.org/
Film: Bounty, Upstander Project, https://upstanderproject.org/films/bounty
If You Lived During the Plimoth Thanksgiving by Chris Newell ; illustrated by Winona Nelson.
The First Blade of Sweetgrass : a Native American Story by Suzanne Greenlaw and Gabriel Frey ; illustrations by Nancy Baker.