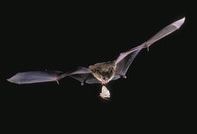 Tuesday, September 22, 6:30pm
Annie Kassler has put together a fascinating presentation on bats which has received great reviews at venues throughout Maine.
Bats are the most misunderstood and under-appreciated creature on the planet. Many people are surprised to learn that bats are gentle creatures that play an essential role in our planet's ecology and global economy.
Kassler will feature 100 slides and discuss why you should care about bats, demonstrate how to remove a bat from your house and provide the latest update on the fight against White Nose Syndrome which is devastating bat populations in Maine and all of eastern North America.
Kassler is a speaker with Bat Conservation International and a member of the White Nose Syndrome Communications Group.