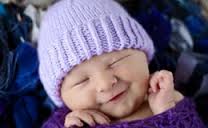 The collecting of hats and mittens for Waldo Cap and Walker School has ended. Thank you everyone for the many lovely donations.
But keep those needles clickin' because we have another project for you. Sue Pelletier is collecting knitted hats for Hats With Hugs in memory of her friend Shelley Vaughan who recently died of cancer. The hats will be given to the Waldo County General Hospital to be distributed to babies there.
This is a pattern for a basic knit roll brim hat.  Use the pattern for Infant Size. You can also get a copy of the pattern at the library. Please use purple yarn for preemies and other colors for infants.  Sue will put some purple yarn in the basket for knitters to use. If you have questions, call Sue at 589-3123. Please help fill the basket once again with knitted hats.