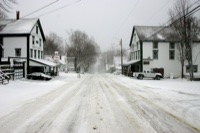 FOR SALE – "Liberty in Winter," an 8″x10″ color photograph taken by Everett Peavey. For sale at the library for $20. Photo comes with a black frame.
This would make a lovely gift for family and friends. Plus, you support the library.
Thank you, Everett, for your donation of this amazing photo.