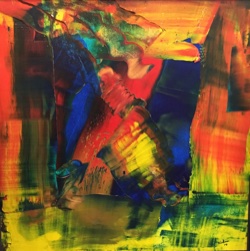 Frank Lehman from Belfast is exhibiting his vivid abstract paintings at the library during the month of February.
Educated as a cultural anthropologist – later trained in the building trades – I morphed into my current "day" job where I am a defender of the rights of taxpayers in trouble with the IRS. This journey is reflected in my art – where I attempt to explore the forms, shapes & colors of the images that constantly are forged & explode from my relationship with today's world.
Frank started painting with house paint. Then moved on to acrylics and finally oils. Most in the paintings in the exhibit are done with oil paints. Frank sells his work at a studio in Colorado and from his office and studio in Belfast.