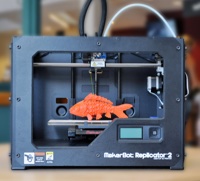 Saturday, May 7th, 9:30-11:30
Have you ever wondered how a 3-D printer works? Thinking about getting a tablet or eReader but not sure which to buy? You will be able to try out an assortment of devices at the library Technology Fair.
On hand will be a Nook SimpleTouch (e-reader), Kindle Fire (tablet), Kindle PaperWhite (e-reader), Apple iPad Mini (tablet), Nook HD+ (tablet), Google Nexus (tablet),  littleBits (small, colorful bits of circuitry that can be pieced together to form fun, complex and useful things), and a 3D printer that uses stereolithography to make real things out of liquid. A knowledgeable speaker from the Maine State Library, Jared Leadbetter, will be available to help guide you and answer your questions and talk about apps.
Bring your own device to try out the apps. Or if you are having difficulty with or would like to learn how to download library materials on your own devices, bring them and we will help you out.