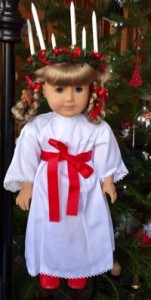 The library has
14 Discovery Kits
 for parents, teachers, homeschoolers, and independent learners in the community to borrow and share with family and friends. Each kit contains a unique collection of multi-media materials including books, DVDs, games, and models chosen to appeal to a variety of learning styles and ages.
 Discovery Kits may be borrowed by adults age 18 and over with a valid library membership in good standing.
All Discovery Kits circulate for a 2- week period.
Kits are examined upon check-out and check-in, and the borrower will be charged a replacement cost for all missing or damaged items.
| | |
| --- | --- |
|  1 | American Girl Doll – Kirsten Kit The Library was given a retired American Girl doll, Kirsten Larson, a pioneer girl who travels from Sweden to America and grows-up in Minnesota in 1854. Also included are the boxed-set of 6 books and game about her life; Welcome to Kirsten's World, 1854,; Kirsten's Craft Book, and several outfits and accessories. We recommend this Kit for ages 7-years and older and handled with adult supervision. |
|  2 | Astronomy Kit Orion 4.5" Starblast Telescope (modified), headlamp, STAR Program Manual, Starry Night DVD and CD software, 7 books, and more. |
|  3 | Birds Kit Vivatar binoculars, Bird Bingo game, 5 books, Robin plush toy, and more. |
|  4 | Bugs Kit Bug Hotel, magnifiers, tweezers, net, 5 insect models, lifecycle model, Garden Insects North Woods Guide, 24 Insect Fact Cards, 8 books, and more. |
|  5 | Critical Thinking Kit A Makey Makey invention kit, Mental Blox Critical Thinking Game, K'NEX Robo Strike Building Set, Connect 4 Game, and two books: One Minute Mysteries: 65 Short Mysteries You Solve with Math!  and Knock-Knock Jokes for Kids. This Kit is recommended for ages 7-years and older. |
|  6 | Dinosaur Kit 13 dinosaur models, floor puzzle, 4 books, Land Before Time DVD, Essential Dinosaur Pack 2 DVDs, and more. |
|  7 | Doctor Kit A scrub shirt, stethoscope, Doc McStuffins Operation game, arm sling, skeleton model, DVD, books and more. The materials inside can help prepare a preschooler for a visit to the doctor or guide an intermediate child in learning how the the human body works. Books are included for young children who are becoming aware of their bodies and Amazing You! : Getting Smart About Your Private Parts offers a simple explanation of how babies are made. This kit was made possible by generous donations from several members of our community. |
|  8 | Early Math Kit Buttons, UNO cards, dominoes, Dora the Explorer Early Addition Flash Cards, 5 books, and more. |
|  9 | Early Reading Kit Starfall Learn to Read pack of 15 Phonic Books, Alphabet Giant Floor Puzzle, Sesame Street Beginning Words Flash Cards, and more. |
| 10 | Farm Kit A farm tote/mat, 15 plastic animals, 1 blue truck, Melissa & Doug Wooden Cube Puzzle, 10 farm blocks/beads, "Tractor Songs" (Audio CD), set of 20 mini books, and 5 hardcover books |
| 11 | Geocaching Kit eTrex 10 Garmin GPS, inflatable globe, 2 books, maps, and more. |
| 12 | Ready, Set, Read! Kit Includes books and games to learn juggling, knot tying, yo-yo tricks, drawing with spirals, jump roping, string games, and jacks.  For inspiration, take a look at this boy's yo-yo tricks. |
| 13 | Rocks & Minerals Kit 12 mineral specimens, poster, magnifiers, 3 books, and more. |
| 14 | Seashore Kit Sand castle toys, seashells, 5 books, and more. |
---
TThe Liberty Library Association received a Community Building Grant from the Maine Community Foundation in May 2014 to provide hands-on STEM (Science,Technology, Engineering and Mathematics) education for children and their parents. The Discovery Kits were designed so that parents, teachers, homeschoolers, and independent learners in the community have access to tools and materials to share with family and friends. The funds also enabled us to provide the Lego Table and two iPads with your children. The iPads have been loaded with appropriate apps for children age 10 and younger.
Several new Discovery Kits have been added since we received that grant and more are added each year. Visit the Children's Room at the Library and explore these resources.
Through hands-on learning, we will empower the next generation of innovators and leaders.
.