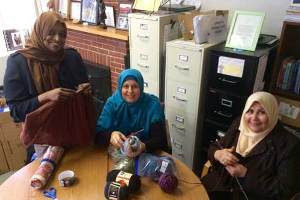 Sue Pelletier reports that so far 396 hats have been donated via Hats with Hugs. Knitters have donated at the Liberty Library, Waldo County Retired Teachers, and St. Margaret's Episcopal Church in Belfast. Eighty hats will be donated at the Maine Retired Teacher's Convention in May to be delivered to ninety hospitals throughout Maine.
Donations of hats are still being accepted.
A large bag of yarn and needles were given to Jen Gunderman who will deliver these to organizations assisting New Mainers transitioning to life in Maine. Keep those donations coming!
Simple 2-needle mitten patterns: 3-4 yrs,  4-6 yrs., & 6-8 yrs.
A simple pattern for hats can be found here. ……………………………………………………………
Another Stockinette Watch cap pattern.
Several knitters are getting together informally to knit and chat on Wednesday mornings at 10:00 at the library. Anyone is welcome to join them.