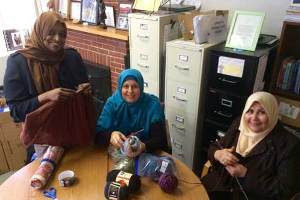 Jo Peavey reports that the Soup Kitchen says they have no more need for hats. I guess they are thinking spring will arrive sooner rather than later!
Sue Chapin delivered 8 hats to Walker School. The library will be collecting hats and mittens for Walker School and WaldoCAP once again in the fall.
Sue Pelletier is still collecting for Hats with Hugs. These hats for newborns or cancer patients are given to many hospitals in Maine as well as other states and countries.
Donations of yarn and needles can be dropped off at the library. Jennifer Gunderman from Liberty will deliver these to organizations assisting New Mainers transitioning to life in Maine.
Simple 2-needle mitten patterns: 3-4 yrs,  4-6 yrs., & 6-8 yrs.
A simple pattern for hats can be found here. ……………………………………………………………
Another Stockinette Watch cap pattern.
Several knitters are getting together informally to knit and chat on Wednesday mornings at 10:00 at the library. Anyone is welcome to join them.