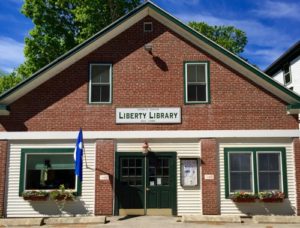 The Library Director is Barbara Worcester. You will find her at the library on Monday evenings and hit-or-miss other times during the week. We operate almost exclusively with our many dedicated Volunteers. If you are interested in volunteering, please contact Barbara.
For Residents (anyone who pays taxes or lives in the towns of Liberty and Montville), library membership is free. Non-residents will be charged $10.00 per year. Books, videos, and audio books are loaned for a two-week period.
Free use of computers and wi-fi are available to all. Users must have a wireless card already installed in their laptop/notebook, PDA or wireless device in order to log-on to the wireless network. Users must agree to our Computer Use Policy. Printing is not available through the wireless network.
We have desktop computers from which you can print. The fee is $.25 per page. We also offer faxing at $1.00 per fax. Our fax number is the same as the phone number: 207-589-3161.
Donations of books, DVDs, and audio CDs are welcome, however please call ahead for large donations. (See Donate.)