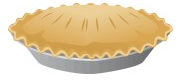 Sat, August 7, 9:00am – 'til sold out.
.
This Pie Sale will be held outdoors in front of the library.
.
Bakers needed. At our July sale, we had 27 pies and sold out in 7 minutes! If we have more pies, we can sell them. Bakers should bring pies to the library between 8-9:00am that morning. Or you can contact Sue Chapin or Barb Rehmeyer to make other arrangements. Please be sure pies are covered and are labeled as to the kind of pie..
.
Pick-A-Prize Raffle Prizes Needed
Saturday, August 21, 9:00-2:00
Can you donate a new or handmade item? A certificate for a baked good or a service are always popular. Create a gift basket? Gift certificates to area stores are a way to support both area businesses and the library. There is a sign-up sheet at the library and you can start bringing in your donations any time. Please have all items at the library by August 20th. Contact Barb if you have questions.