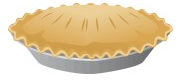 Sat, May 29, 9am – 12pm
We know you missed them, so we are going to hold Pie Sales this summer. But they will look different. One customer at a time will be allowed inside the library at one time to choose and pay for pie. Pies will be $15 and exact change appreciated.
.
We will need your help. We cannot have a Pie Sale without pie bakers. Bakers should bring pies to the library between 8-9:00am that morning. Or you can contact Sue Chapin or Barb Rehmeyer to make other arrangements. Please be sure pies are covered.( Note: this is Memorial Day weekend.)
.
Tentative dates for future Pie Sales are July 3 & August 7. Pick-A-Prize Raffle – August 21.