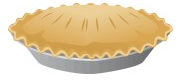 Sat, June 4, 9:00am – 'til sold out.
The first Pie Sale of the summer! Sale will be held outside in front of the library.
.
 We need your help. We cannot have a Pie Sale without pie bakers. Please bring pies to the library between 8-9:00am that morning. Or contact Sue Chapin to make other arrangements. Please be sure pies are covered and label the kind of pie. Boxes are available at the library.
Plant Sale
June 11, 9:00am-2:00pm, held outside
As you are working in your garden this spring and have perennials to separate, please consider donating some for the plant sale. However, some extra precautions must be taken this year – when sharing plants, you should shake off as much dirt as you can, wash the roots – basically get down to bare roots – and then pot up the plants in a bagged soil. Be very careful not to leave potted plants that are going to leave your property sitting on the ground, where worms might find their way into the pot. Read more
.
We also want your extra seedlings and houseplants. Please label them with their name and other helpful information, such as color, size, growing conditions, etc.
.
Donations for the Plant Sale can be dropped off at the library on Friday afternoon between 3:00 and 6:00pm. Please let us know if you need pots or need to make other arrangements for drop off.