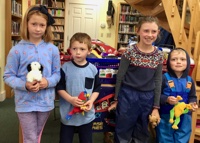 Eighteen children returned their Reading Records to the Liberty Library and "purchased" with their reading points 120 cans of cat food, six 16.5 lb. bags of dog food, 48 packets of wet dog food, and an assortment of treats, dishes, collars, leashes, and toys. All of theses items were donated to the Waldo County Pet Food Pantry. Heidi Blood, director of the Food Pantry, and her dog Cubby were at the library on Saturday, September 7th, to accept the donations. Kids read for at least 30 minutes a day during the summer to earn a point sticker on their Reading Record. All who turned in their records had at least 50 points or more. Pictured at left are a few of the top readers in front of a table piled high with pet food and supplies.
Those who turned in a Reading Record but did not attend the Summer Reading Wrap-Up can pick up their certificates at the library. We chose the pet food for you!
The Summer Reading Program is made possible by Pieceworks, Inc., Back 40 Bakehouse, Liberty East, Lake St. George Brewing Company, and Richard & Mary Vann.