Wednesday, December 16, 6:30pm (virtual)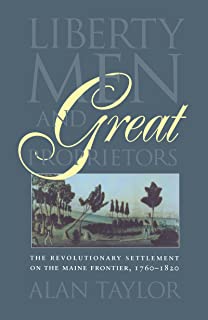 Alan Taylor, author of Liberty Men and Great Proprietors: The Revolutionary Settlement on the Maine Frontier, 1760-1820, will present a lecture and conversation about Liberty Men, Great Proprietors, and Maine Today. In the years leading up to Maine Statehood, the political culture in the District of Maine was remarkably like it is today: fraught with conflict, resentment, political theater, and the pursuit of opportunity. Join noted American historian and Pulitzer prize winner Alan Taylor to learn about settlers trying to build lives on the Maine frontier, wealthy landowners seeking to monetize vast tracts of land they had been granted, and for conversation about how the story of "liberty men" and "great proprietors" might help us understand Maine today.
.
Register and the Zoom link will be sent to you on December 15th.
Quigg Island Project
View the Quigg Island Project presentation recording by Annette Naegel from Georges River Land Trust. (The presentation begins at 2:40.) More information about the project and to email Annette for questions and comments can be found at www.georgesriver.org/quigg-island-project.