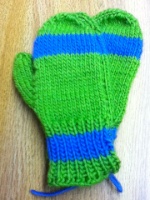 As autumn begins, it is heartwarming to see our library basket overflowing with the hats, mittens, and other knitwear that our needle crafters have been busy working on over the summer.  We will be distributing these soon to the Walker School in Liberty, the WALDOCAP  Headstart program, Belfast Soup Kitchen, and the Triad collection box for older Waldo County citizens in need of warm clothing.
Please keep your knitting needles clicking and clacking and your crochet hooks hooking as we head into even colder weather.  The need is very great and we will continue to distribute all that you so generously make.  Please know they are truly appreciated by those who receive them. Thank you!
Simple 2-needle mittens: 3-4 yrs,  4-6 yrs, & 6-8 yrs.
A simple pattern for hats can be found here. Another watch cap pattern.
We also collect yarn and needles for Jen Gunderman who delivers these to organizations assisting New Mainers transitioning to life in Maine. They in turn make hats and mittens for other refugees who are in camps awaiting permission to be allowed into other countries to begin making new lives for themselves and their families.
Several knitters are getting together informally to knit (and other crafts) and chat on Wednesday mornings at 10:00 at the library. Anyone is welcome to join them.