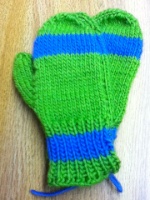 It is that time of year to get those knitting needles clicking and those crochet hooks looping so we may again provide warm hands and heads around our community.  We are collecting children's mittens (small sizes are most needed) for the Walker School and small sized mittens and hats for  WaldoCAP Headstart.  Our adult hats and cowls go to the Belfast Soup Kitchen and to the TRIAD program which distributes warm winter clothing to our senior citizens in need. There is free yarn for this project in the library along with a basket for the finished mittens, hats, and cowls.  We thank you so much for your continued support!
Simple 2-needle mittens: 3-4 yrs,  4-6 yrs, & 6-8 yrs.
A simple pattern for hats can be found here. Another Stockinette Watch cap pattern.
We also collect yarn and needles for Jen Gunderman who delivers these to organizations assisting New Mainers transitioning to life in Maine. They in turn make hats and mittens for other refugees who are in camps awaiting permission to be allowed into other countries to begin making new lives for themselves and their families.
Several knitters are getting together informally to knit and chat on Wednesday mornings at 10:00 at the library. Anyone is welcome to join them.