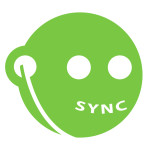 SYNC is a program that gives away two complete audiobook downloads each week to listeners through the summer.
Download the free YA Novels from SYNC here »
Remember – grab these titles before they are replaced by a new pairing each week. While the title availability is time-limited, your listening time is not. Once you have downloaded the MP3 files, the audiobook is yours to listen to at your leisure.
The SYNC program runs from April 27th – August 16th, 2017. Titles change every Thursday at 7am ET.
.