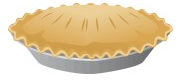 Saturday. Aug. 3rd, 9:00-12:00
Along with the last Pie Sale for the season, the library will be holding a fine crafts sale. Several local crafters have purchased table space and will be selling their artwork at the library:
Betsy Levine – Handmade silver and gemstone earrings and a few other handcrafted jewelry items.
Joan Martis – Selling tote bags made from recycled sailboat sails as well as a variety of small notebooks, journals and cards made primarily from repurposed paper.
Kerry Black –  Table runners, potholders with heat resistant batting, and a number of other quilted items.
Maya Critchfield – Art and tools for the maker and mender: sewing kits, pincushions, artist smocks, prints, and more.
Brian Hurt – Wooden ware.
Barb Rehmeyer – An assortment of handmade crafts made by volunteers.
Sett Balise – Also for sale at Barb's table will be pottery made by Sett Balise – locally made, handcrafted ceramics made with durability and functionality in mind.
Buy a special gift for someone. Or buy a little something for yourself. Whichever, please stop by and support these local artisans.