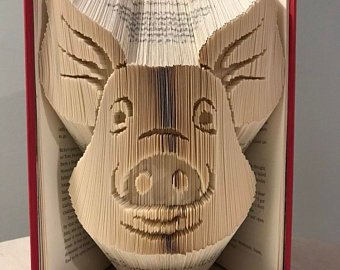 Chelsea Porter is from Stockton Springs, Maine. She claims, " As far back as I can remember I have loved to read. On a whim I decided to combine my love for reading  with my passion for crafting. I have come up with Binders Keepers Art, with which I get to create lasting keepsakes using recycled books to make folded books and book-related décor and accessories for bibliophiles of all ages!"
Chelsea uses patterns to create folded books, which tell what measurements to make on each page of the book, and then she goes back and folds each measurement to complete the design. Each book can take from about 3 hours to 40 hours to make, depending on how intricate the design is. She makes designs for weddings and holiday gifts, as well as taking personalized custom orders on Etsy from people all over the country. Items at the library are for sale with 20% sales to library.
Visit her Facebook page at www.facebook.com/Binderskeepers12,
Etsy page at www.binderskeepersart.etsy.com,
and/or email her at Binderskeepers12@gmail.com for more information.