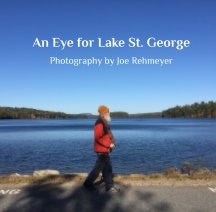 An Eye for Lake St. George
 is a collection of photographs taken by Joe Rehmeyer along Lake St. George in Liberty, Maine.  The walks mostly followed the road beside the southwest corner of the lake past Marshall Shores. These 80 photographs were narrowed down from over 1300 by his daughter, Emily, and her husband, Michael Boudreaux.
Hardcover is $55 + shipping. Softcover is $30 + shipping. Profits for each book sold will go to the Liberty Library. Barb Rehmeyer still has a few softcover books for sale so you save shipping cost.